Walk and Wag Baby Pluto
Winner of the Family Fun Toy of the Year Award and Ser Padres Award.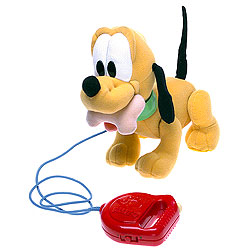 The adorable star of countless cartoons and movies can now be your very own. Take him on walks using his easy-to-maneuver remote control. He'll walk, wag his tail, bark, and shake his head with the help of three AA batteries (included) and a simple hand controller. For a lively game of tug-of-war, grab a hold of the bone in his mouth and Pluto will pull and growl. Kids will feel a sense of accomplishment and build coordination as they learn to maneuver this playful pooch. Made of brightly colored fabric, Walk and Wag Baby Pluto is surface washable and is the perfect first pet for your preschooler.
Pluto, the adorable, floppy-eared pup from Disney's classic cartoons, has always been a favorite among young fans. His playful, curious personality and expressive pantomime comedy make him relatable and fun. As Mickey Mouse's loyal pet, Pluto accompanies his owner on adventures, reacting with comic surprise andconfusion to the antics unfolding. His humble sweetness as a dog contrasts with the larger-than-life characters around him like Goofy and Donald Duck. Pluto chases balls, digs holes, and gets into funny mishaps, much like a real puppy would. While lacking speech, he communicates through barks, facial expressions, and animated body language. Pluto's resilience makes him endearing too, as he recovers from every disaster with energy and an adorably cocked head tilt. For kids, Pluto represents the perfect cartoon pet – cute, funny, and always bouncing back for more fun. His innocent spirit and heartwarming loyalty remind children of the companionship their own pets provide. Pluto will forever be beloved for bringing joy and humility to the zaniness of Mickey's world.