Walk and Wag Baby Pluto
Winner of the Family Fun Toy of the Year Award and Ser Padres Award.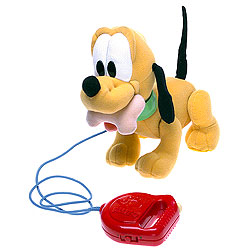 The adorable star of countless cartoons and movies can now be your very own. Take him on walks using his easy-to-maneuver remote control. He'll walk, wag his tail, bark, and shake his head with the help of three AA batteries (included) and a simple hand controller. For a lively game of tug-of-war, grab a hold of the bone in his mouth and Pluto will pull and growl. Kids will feel a sense of accomplishment and build coordination as they learn to maneuver this playful pooch. Made of brightly colored fabric, Walk and Wag Baby Pluto is surface washable and is the perfect first pet for your preschooler.