Water Play Slide Center Pool
Water slide play center.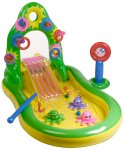 Fun slide with hoops and toys - a great way for the little ones to stay cool on those hot days.
A small inflatable pool with a built-in slide creates a perfect at-home water park for summer fun. Kids delight in climbing the ladder steps up the slide tower and zooming down the slick green chute into the refreshing pool below. The compact size fits easily in backyards and driveways, providing aquatic play close to home. Children splash away the afternoon floating on inflatable animals, dueling with pool noodles, or just cooling off from the heat. A small inflatable pool lets kids' imaginations run wild too, transformed into a pirate's cove, mermaid lagoon, or even a shark tank for rowdy water adventures. The built-in slide adds endless thrills as kids challenge themselves to go faster, make a big splash, and slide in unique positions. Parents can relax poolside, knowing their children are having safe, supervised aquatic fun. Affordable and portable, a small inflatable pool with slide brings joyful summertime memories no matter the location or space available.