Weather Lab Kit
Capsela Weather Station.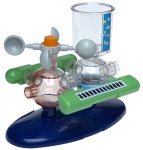 The Capsela modular science system provides hands-on learning experiences. Young minds come alive as they improve problem-solving and developmental skills. Instead of just reading about energy or forces, kids discover the fun of science in motion as they actually handle batteries, create motors, and see for themselves how energy changes with the help of visible gears and wheels. Children have fun exploring concepts they use and observe for themselves with Capsela. Each kit contains an easy-to-follow activity booklet that introduces basic science concepts. Step-by-step full-color illustrated assembly instructions make it easy for children in grades 2 and up to quickly master basic science principles while they create fascinating motorized projects. And every Capsela product comes with a full two-year warranty. Grades 2 and up.
Maintaining and Monitoring a Home Weather Station: Fostering a Love of Meteorology
Hands-On Experience: Setting up and maintaining a home weather station provides hands-on experience with meteorological instruments and technology, offering a practical understanding of how weather data is collected and analyzed.
Real-Time Data Analysis: Monitoring real-time weather data allows individuals to observe weather patterns and changes as they happen, enhancing analytical skills and fostering a deeper understanding of meteorological phenomena.
Connection to Nature: Observing weather conditions and understanding how they relate to the natural world fosters a connection to nature and an appreciation for the complexity of Earth's climate system.
Scientific Inquiry: A home weather station encourages scientific inquiry and critical thinking by allowing individuals to formulate hypotheses, conduct experiments, and analyze data related to weather patterns.
Weather Forecasting Skills: Learning to interpret data and make weather forecasts builds valuable skills in prediction and analysis, laying the groundwork for more advanced meteorological studies.
Interdisciplinary Learning: Meteorology intersects with various scientific disciplines such as physics, chemistry, and geography. A home weather station can be a gateway to exploring these interconnected fields of study.
Community Engagement: Sharing weather data with local communities or online weather networks fosters collaboration and engagement with others interested in meteorology, building a sense of community and shared purpose.
Encouragement of STEM Careers: Exposure to meteorological practices and the excitement of weather observation can inspire a passion for science, technology, engineering, and mathematics (STEM), potentially leading to a career in meteorology or related fields.
Environmental Awareness: Understanding weather patterns and climate trends contributes to a broader awareness of environmental issues such as climate change, encouraging responsible stewardship of the planet.
Creativity and Innovation: Designing and customizing a home weather station encourages creativity and innovation, allowing individuals to experiment with different configurations and technologies to suit their specific interests and needs.
Maintaining and monitoring a home weather station offers a multifaceted and enriching experience that can ignite a lifelong passion for meteorology. It provides a hands-on, engaging way to explore weather science, fostering skills and interests that may lead to academic pursuits and professional careers in the field.