Wheels on the Bus Game
Wheels on the Bus Board Game by Hasbro.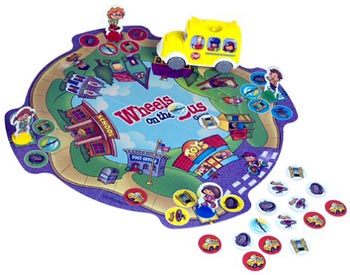 The Wheels on the Bus Game will probably drive adults 'round and 'round the bend, with its all-talking, all-singing action, powered by three AA batteries (not included). But designed for 3- to 6-year-olds, this combination of memory game, play-acting, and sing-along fits nicely into Milton Bradley's My First Games portfolio. Players take turns rolling the musical yellow bus to their space on the board. Pressing the hood tells them which of the four tokens (door, wiper, horn, or wheel) to locate by turning over any two of the 20 face-down tokens. Make a match, and keep the token; collect all four, and it's an express ride to the winner's circle.
With its distinctive yellow paint, long rounded shape, and rows of bench seats, the yellow school bus has become an enduring American cultural icon. For generations of kids, the school bus was their first experience of transportation independence from parents, a vessel to adventure and a rite of passage. The yellow color screams caution and visibility, while the bus's utilitarian design speaks to dutiful service transporting children safely.
The yellow bus vividly captures the excitement and anxieties of school activities from field trips to competitive sporting events. The rituals of getting on the bus, choosing a favorite seat, and waving goodbye create shared nostalgia. Songs, stories, and toys have celebrated the iconic bus ride. Images of yellow buses decorated with school pride and kids peering out windows remain a visual shorthand for the American school experience. The yellow bus has even become a symbol of access to education and opportunity. While styles evolve with new designs, the yellow school bus remains a beloved tradition connecting communities and an integral part of the fabric of childhood.