Winnie the Pooh Stuffed Animal
Sing Me to Sleep Pooh by Fisher-Price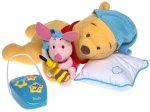 Infants will drift into dreamland as Pooh sings an adorable lullaby. A convenient remote control lets you activate 1 of 3 soothing modes or turn the toy off without disturbing your child. With Sing Me To Sleep Soother, infants will have dreams as sweet as honey. A soothing alternative to a wind-up nighttime musical toy, this soft plush sleeping Pooh, accompanied by his best friend Piglet, can be placed in a corner of the crib and controlled by remote. Playing the music from a distance means no more sneaking in to rewind a toy and possibly disturb the baby. Pooh is dressed in a blue nightcap and snuggles on a small pillow, which is a plastic music unit covered with cotton. It has a soft flashing light inside and there is an on/off switch underneath. When pressed, Pooh's familiar voice sings a lullaby. The blue plastic remote activates one of three choices--soft, tinkling classical music, a Pooh song, or chirping birds and nature sounds.
Winnie the Pooh has endured as one of the most beloved children's characters of all time thanks to his warm personality and relatable attributes that reflect the simple joys of childhood. Pooh's love for his friends, inquisitiveness about the world, and gentle wisdoms resonate with children. His devotion to routine from breakfast to bedtime provides comfort through consistency. And his seemingly small adventures exploring the Hundred Acre Wood, going on expeditions, and getting into humorous scrapes capture a child's imagination.
Physically, his round soft teddy-bear shape exudes cuddliness, and his expressive face conveys emotions even without speech. Pooh's occasional confusion and language missteps like "a bear with very little brain" make him endearingly humble. Above all, his kind-hearted nature, loyalty to friends, and unhurried appreciation of the simple pleasures in life, from honey to poetry, embody the innocence of childhood. Pooh doesn't need grand adventures to find joy and meaning. For over 90 years, this tender, whimsical bear has touched the hearts of children worldwide, creating memories that last a lifetime.