Winnie the Pooh
Christopher Robin, Piglet, and Owl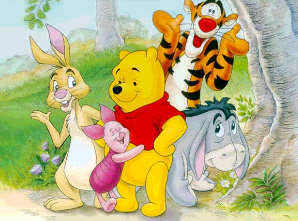 Winnie-the-Pooh, created by A.A. Milne, is a beloved literary character whose enduring charm has enchanted readers of all ages for generations. The appeal of Winnie-the-Pooh lies in its heartwarming stories, relatable characters, and timeless themes that continue to resonate with audiences around the world:
Endearing Characters: From the gentle and thoughtful Winnie-the-Pooh himself to his diverse group of friends, including Piglet, Eeyore, Tigger, and more, each character is uniquely charming and relatable in their own way, representing different facets of human nature and emotions.
Simple Joys: The stories of Winnie-the-Pooh are centered around the everyday adventures and simple pleasures that define childhood. Whether it's a search for honey, a game of Poohsticks, or a picnic with friends, these relatable experiences evoke a sense of nostalgia and warmth.
Themes of Friendship: At the heart of Winnie-the-Pooh is the deep and enduring friendship among its characters. The bonds they share, their willingness to help one another, and the support they provide highlight the importance of friendship and companionship in both challenging and joyful times.
Innocence and Wonder: The world of Winnie-the-Pooh is portrayed with a childlike sense of innocence and wonder. The characters' outlook on life, their curiosity, and their capacity to find joy in the smallest of things capture the essence of childhood and imagination.
Whimsical Adventures: Whether it's searching for Heffalumps and Woozles, bouncing with Tigger, or helping Eeyore find his tail, the characters' adventures are whimsical and lighthearted, filled with humor and imagination that transcend generations.
Universal Emotions: Winnie-the-Pooh stories explore universal emotions, including happiness, sadness, fear, and hope. These emotions are portrayed with a depth and sensitivity that make the characters' experiences relatable to readers of all ages.
Quotable Wisdom: The stories are rich with memorable quotes and wisdom that offer valuable life lessons. From Pooh's simple but profound insights to the musings of Owl and the wisdom of Christopher Robin, these quotes have become cherished pieces of advice and comfort.
Art of Storytelling: A.A. Milne's storytelling is characterized by its gentle pacing, lyrical language, and genuine affection for the characters. The narratives unfold in a way that invites readers to join the characters on their journeys and immerse themselves in the Hundred Acre Wood.
Generational Connection: The stories of Winnie-the-Pooh have been passed down from one generation to another, creating a sense of connection and shared experience among readers young and old. The characters and their adventures continue to be a part of family traditions.
The timeless appeal of Winnie-the-Pooh lies in its heartwarming stories, relatable characters, and universal themes of friendship, innocence, and imagination. Through its enchanting narratives and endearing characters, Winnie-the-Pooh continues to remind readers of the beauty and wonder of childhood and the enduring value of timeless stories.
The Complete Tales of Winnie-the-Pooh - Presents a comprehensive, unabridged collection of Winnie-the-Pooh stories, accompanied by Shepard's original full-color illustrations, as well as headbands and ribbon markers, colorful bookplate, and biographies of the author and illustrator. When Christopher Robin asks Pooh what he likes doing best in the world, Pooh says, after much thought, "What I like best in the whole world is Me and Piglet going to see You, and You saying 'What about a little something?' and Me saying, 'Well, I shouldn't mind a little something, should you, Piglet,' and it being a hummy sort of day outside, and birds singing." Happy readers for over 70 years couldn't agree more. Pooh's status as a "Bear of Very Little Brain" belies his profoundly eternal wisdom in the ways of the world. To many, Winnie-the-Pooh, Piglet, Eeyore, and the others are as familiar and important as their own family members. A.A. Milne's classics, Winnie-the-Pooh and The House at Pooh Corner, are brought together in this beautiful edition, complete and unabridged, with recolored illustrations by Milne's creative counterpart, Ernest H. Shepard. Join Pooh and the gang as they meet a Heffalump, help get Pooh unstuck from Rabbit's doorway, (re)build a house for Eeyore, and try to unbounce Tigger. A childhood is simply not complete without full participation in all of Pooh's adventures.
Pooh's Library : Winnie-The Pooh/the House at Pooh Corner/When We Were Very Young/Now We Are Six/Boxed Set
Winnie-The-Pooh 2004 Calendar - Once again, Pooh's many fans can enjoy some of his best-loved witticisms and hilarious Hundred Acre Wood high jinks in this ever-popular wall calendar. Each month, a generous excerpt from A. A. Milne's stories and poems is accompanied by Ernest H. Shepard's timeless illustrations, presented here in full color. As always, the calendar features a Special Bonus-a sheet of more than fifty full-color stickers of Pooh and his friends to mark birthdays, appointments, or other Busy Days. This delightful calendar is sure to warm the heart and bring a smile to every Pooh fan.
Disney's Winnie the Pooh's Bedtime Stories - In search of a good night's sleep, Pooh asks seven of his friends to tell him a bedtime story, until Kanga finally has him snoring away.
The Nursery Rhymes of Winnie the Pooh : A Classic Disney Treasury - This collection consists of the traditional assortment of nursery rhymes, songs, and poems for the very young. Although the design is open and spacious, the illustrations are unimaginative and repetitive because they consist of Disney's Winnie the Pooh and friends. There are numerous other books of nursery rhymes available that are more playful, intriguing, and inspiring.
Pooh (Giant Board Book) - These giant-sized, shaped board books celebrate Pooh and Tigger as the superstars they are. Big enough to hug, and featuring sturdy boards and safely rounded edges, they are designed for the youngest devotees of the Bear of Little Brain. With full-image covers, very large type, and up-close illustrations, these striking books will grab preschoolers' attention and hold it.
Baby's Book of Winnie the Pooh : A Disney Treasury of Stories and Songs for Baby - Winnie the Pooh and baby, too! This lovely collection of playful rhymes and stories will delight the littlest listener in your family. From bouncy songs to simple, silly stories to hush-a-bye lullabies, this treasury will help babies explore the worlds of rhythm, rhyme, and play. A beautifully illustrated, jacketed hardcover, this picture book makes a wonderful baby gift, and a strong addition to our collectible Disney Treasury line.
Winnie-The-Pooh's Baby Book - Everyone's favorite bear and his friends are presented in this full-color book for recording all the details of that wondrous first year. This charming volume includes excerpts from the stories and poems of A.A. Milne with Ernest Shepard's inimitable illustrations. Printed on heavy stock, this book offers plenty of space for photos and birth data, plus envelopes for momentos.
Pooh's Library : Winnie-The-Pooh, the House at Pooh Corner, When We Were Very Young, Now We Are Six - Winnie-the-Pooh and his friends--blustery old Owl, bouncy Tigger, clever Christopher Robin, glum Eeyore, and the rest--have been a staple of children's literature for over 70 years in A.A. Milne's Winnie-the-Pooh and The House at Pooh Corner. And Milne's immortal collections of children's verse, When We Were Very Young and Now We Are Six, have soothed many a savage beast at bedtime with such incomparable delights as "If I Were King" and "Us Two." All four of these classics, complete with Ernest H. Shepard's original illustrations, are gathered here in a handsome boxed set. These hardcover editions will most certainly be a cherished legacy to be handed down for generations to come.