Wintertime Collection Bratz
Snow time winter wonderland ski lodge playset with working lift, snowmaking machine, and party jacuzzi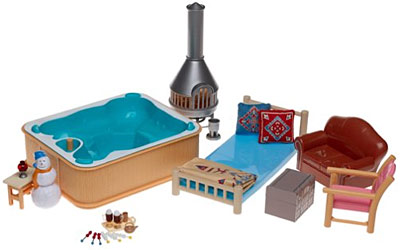 It's wintertime and the Bratz dolls are heating things up at the coolest ski lodge in town. With six cool areas to choose from, plus a working ski lift, Jacuzzi, and snowmaking machine, winter just got a lot cooler.
Bratz dolls, the pouty-lipped fashion dolls with giant heads and skinny bodies, rose to popularity in the early 2000s as an edgier alternative to traditional dolls. Bratz were known for:
Style - With bold makeup, layers of trendy accessories, and clothing reflecting current fashions, Bratz projected a glamorous high-fashion image.
Diversity - The core group of Bratz dolls included a variety of skin tones and ethnicities to appeal to a broader demographic.
Attitude - With their slogan "Passion for Fashion," Bratz dolls exuded confidence, individuality, and a little sass in their expressions.
Customization - Kids could mix and match outfits and extensive accessory packs to create unique looks and personalities for their Bratz.
Media - CGI-animated films, video games, web series, and TV shows helped make the Bratz a full-fledged brand.
Though controversial for their edgy appearance, the Bratz dominted the doll market in their heyday thanks to their diversity, trendy style, and spunky attitude that resonated with tween girls looking for an alternative to classic dolls.