Wizard of Oz Playset Game
Recreate the fantastical adventures of Dorothy and her friends.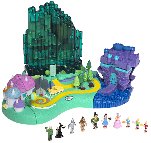 The Wizard of Oz Playset brings the timeless story of Wizard of Oz to life in miniature detail so you can recreate the fantastical adventures of Dorothy and her Friends. Devotees of the movie classic can engage in endless role-play and movie reenactment with the miniature Wizard of Oz Playset. A cleverly designed plastic stage features key elements from the story, including the yellow brick road, Munchkinland, the Emerald City, and the Wicked Witch's castle. Ten tiny plastic characters that stand about 1 inch tall help bring the set to life, and they can be positioned at various designated areas as the story unfolds. The Wizard of Oz's palace is equipped with an opening curtain, which is similar to the one he hides behind in the movie. Oz can also be placed in the removable hot air balloon that rests in the Emerald City. Players can make the Wicked Witch of the West pop out of a hidden compartment in Munchkinland or melt into a blob while inside of her castle.
The Wizard of Oz is a beloved American musical fantasy film from 1939 that has become a cultural classic.
The film centers on Dorothy, played by Judy Garland, and her journey through the magical Land of Oz after being transported there by a tornado.
It features iconic characters such as the Scarecrow, Tin Man, Cowardly Lion, Wicked Witch of the West, and Wizard of Oz himself.
Musical numbers including "Over the Rainbow," "Ding Dong! The Witch Is Dead," and "We're Off to See the Wizard" are classics.
Groundbreaking visual effects and color cinematography transport viewers to the vibrant fantasy world.
The film's themes of friendship, courage, self-discovery, and "there's no place like home" resonate widely.
Quotes like "I'll get you, my pretty!" and "Pay no attention to the man behind the curtain" are oft-referenced.
It has been re-released numerous times and inspires frequent pop culture references, musicals, and adaptations.
With its imaginative world, memorable characters and music, The Wizard of Oz remains a testament to Hollywood fantasy storytelling and the power of dreams.