Wooden Knob Puzzles
Transport, Farm, Jungle Animals and Food Knob Puzzles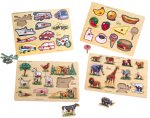 Transport, Farm, Jungle Animals and Food Knob Puzzles
Wooden knot puzzles provide engaging hands-on play for young children while building spatial reasoning and problem solving skills.
The simple act of manipulating and linking the wooden pieces to form shapes helps develop fine motor control and coordination.
Completing the puzzles demands focus, logic, and sequential thinking as children connect interlocking knots step-by-step.
The cause and effect of seeing a shape emerge as pieces click together builds critical cognitive connections.
Vibrant colors and approachable animal or object themes stimulate growing minds.
Puzzles can be incorporated into interactive play like "zoos" and "farms" as children learn and reinforce animal names.
The tactile, hands-on nature makes absorbing abstract concepts such as patterns, spatial organization and problem solving more engaging and concrete.
With their blend of fun imagery, manipulatives, and intellectual stimulation, wooden knot puzzles delight and develop minds at an early age.