Word Learning Toy Vocabulary Building Game
Sorting by beginning and ending letter sounds, rhyming, and theme studies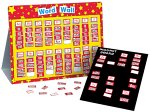 Many primary classrooms in America have word walls where kids sort words into categories. The sorting can be done in many different ways, from beginning letter sounds to rhyming, theme studies, or ending sounds, to name a few. This portable word wall set sorts high-frequency words--the words that appear most frequently in emergent reading books, such as and, the, etc. For children ages 4 to 8, sorting words is a terrific early literacy activity.
The 17.5-by-13-inch magnetic standup board comes with 131 precut magnets, a magnet storage board, a plastic storage bag, and an activity guide. The letter labels are red on white and the words are a distinctive black on white with a red background. An adult modeling and helping a child to sort the words will contribute to success. This activity is a powerful literacy tool for pre- and beginning readers. Now, a portable Word Wall Set that's just the right size and is easy to use too! Large 17 X 13 magnet board has a fold-out support for standing-up on a table.
High Frequency Words (level 1) is a great interactive learning tool to help kids, individually or in small groups, read and spell those words which lack a predictable spelling pattern. Each set comes with a magnet storage board to hold and organize the magnets when not in use. No velcro or cutting up of word cards is necessary as all the magnets are pre-cut and ready to stick to the magnetic board. Set includes over 130 pre-cut magnets, portable stand-up magnetic board, a magnet storage board, resource guide, and re-usable storage pouch. Blank magnets are included to allow adding new words to the board as they are discovered. Great for small groups or individual use. Grades K - 3rd.
A magnetic word wall is a fantastic educational tool that helps children engage with language in an interactive and tactile way. It allows kids to sort words into various categories like rhyming groups, theme studies, or parts of speech. This hands-on approach to language learning not only aids in vocabulary acquisition but also enhances cognitive skills such as categorization, pattern recognition, and logical thinking. As children physically move the magnetic words into different groups, they gain a deeper understanding of word relationships and language structure. Whether used in a classroom or at home, a magnetic word wall can transform language learning into an active, engaging, and fun experience.