WWE Action Figures
Wrestling Action Figures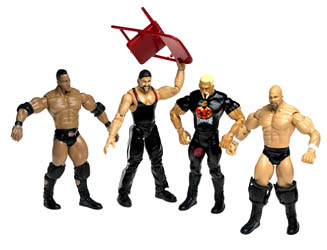 Be part of the backstage environment - just like the WWE Superstars. Real Scan Detail. Featuring exclusive playset with figures.
The WWE (World Wrestling Entertainment) is a hugely popular professional wrestling entertainment company known for its theatrical, soap opera-like matches and larger-than-life personalities.
Founded in 1952 as the Capitol Wrestling Corporation, it eventually became the WWE led by promoter Vince McMahon.
Wrestlers are portrayed as heroic "babyfaces" or villainous "heels" engaged in storied rivalries and fictional storylines.
Popular WWE events include weekly Raw and SmackDown shows, WrestleMania, SummerSlam, and Survivor Series pay-per-views.
Iconic WWE wrestlers include Hulk Hogan, The Rock, John Cena, Triple H, The Undertaker, and Stone Cold Steve Austin.
The WWE uses melodramatic athleticism, emotively scripted matches, celebrity cameos, and multimedia spectacle to provide entertainment spanning generations.
Though outcomes are predetermined, the WWE's blend of athleticism and theatricality has made pro wrestling a hugely successful form of sports entertainment with fans worldwide.
The WWE action figure line has enjoyed tremendous success, capturing the essence of the larger-than-life characters that populate the world of professional wrestling. These figures not only provide fans with a tangible connection to their favorite wrestlers, but they also offer an opportunity for imaginative play. The figures often come with intricate detailing and accessories that mirror the wrestlers' unique personas, moves, and costumes. Over the years, the franchise has expanded to include various series and special editions, encompassing legends from the past as well as current superstars. The action figures are often used for both play and collection, and their enduring appeal is a testament to WWE's vast and passionate fan base.