WWE Stunt Action Ring
Wrestling Stunt Ring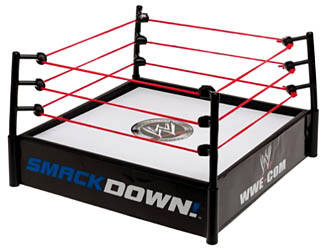 Action Wrestling Ring with new rebound mat which makes the figure bounce back. Has realistic turnbuckles.
The WWE (World Wrestling Entertainment) franchise has been a dominant force in the world of professional wrestling, boasting a massive fan base and global recognition. Recognizing the potential to extend their brand, WWE has leveraged their popularity through strategic partnerships with toy manufacturers, resulting in a highly successful line of products that resonate with fans of all ages:
Action Figures: WWE has collaborated with leading toy manufacturers to create a wide range of action figures representing popular wrestlers. These figures are meticulously crafted, capturing the likeness, signature moves, and unique characteristics of each wrestler. Fans can collect, play, and recreate iconic wrestling moments with these action figures.
Playsets and Accessories: Beyond individual figures, WWE has also introduced playsets that replicate famous wrestling arenas, rings, and accessories. These playsets allow fans to stage their wrestling matches, complete with entrance ramps, announcer tables, and championship belts.
Video Games: In addition to physical toys, WWE has partnered with video game developers to create wrestling games that provide an immersive and interactive experience. These games allow players to control their favorite wrestlers, engage in thrilling matches, and even create their storylines and characters.
Apparel and Merchandise: WWE's partnership with toy manufacturers has also extended to apparel and other merchandise, including t-shirts, hats, and backpacks featuring popular wrestlers and logos. These products allow fans to showcase their support and connect with the WWE brand in their daily lives.
The success of WWE's partnership with toy manufacturers is a testament to the franchise's understanding of their audience and their ability to create products that authentically represent the excitement and drama of professional wrestling. By offering a diverse range of toys and merchandise, WWE has not only enhanced fan engagement but also created new revenue streams that contribute to the continued growth and success of the brand.