Tyco Extreme Cycle - Tycho X-Treme
Great toy for a boy.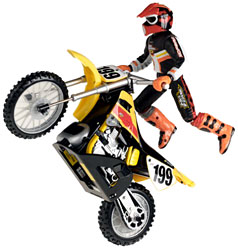 Remote control is no longer just for four-wheel rigs. The Moto-X Cycle is 13 inches of motorcycle racing excitement that will probably leave most remote-control cars in the dust. It features a gyro-stabilizer for awesome control and easy driving and an articulated rider that looks like world champion rider, Travis Pastrana. Kids control all the action with the easy-to-use full-function transmitter. Details like rubber knobby tires, real rear-spring suspension, and working front shocks make this a machine to be reckoned with. Because of its exclusive patented gyro stabilizer located in the rear wheel, the Moto-X Cycle can zoom along balanced like a real bike on just two wheels. The stabilizer safely spins at high speed inside the rear wheel and works like a gyroscope to help keep the cycle upright. Jumps, somersaults, and wheelies allow for a wide range of challenging play options. Atop the bike sits a detachable rider figure, and the style of both the cycle and the rider's protective gear were designed by famed X Games motocross rider Travis Pastrana. The Moto-X runs exclusively on a TMH Flexpak rechargeable battery system (not included), with a running time of 20 to 30 minutes on a full charge.
X Games motocross is an extreme sport branch of competitive freestyle motocross showcased at the annual X Games extreme sports competitions.
Riders perform awe-inspiring aerial tricks and stunts as they fly high off ramps, dirt hills, and gap jumps.
Signature motocross moves include the cliffhanger, cordova flip, superman seat grab, and Hart attack backflip.
Riders are judged based on the difficulty, originality, execution and height achieved on tricks.
The events include Motocross Best Trick, where riders attempt to land a single mind-blowing stunt, and Moto X, a judged freestyle motocross routine.
X Games motocross displays the cutting edge progression of the sport with new tricks innovated each year.
With its live-wire energy and seemingly gravity-defying stunts, X Games motocross represents the pinnacle of excitement in extreme motorsports.