Tyco Extreme Cycle - Tycho X-Treme
Great toy for a boy.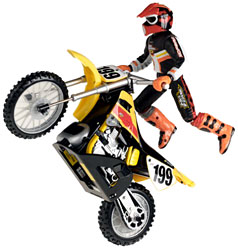 Remote control is no longer just for four-wheel rigs. The Moto-X Cycle is 13 inches of motorcycle racing excitement that will probably leave most remote-control cars in the dust. It features a gyro-stabilizer for awesome control and easy driving and an articulated rider that looks like world champion rider, Travis Pastrana. Kids control all the action with the easy-to-use full-function transmitter. Details like rubber knobby tires, real rear-spring suspension, and working front shocks make this a machine to be reckoned with. Because of its exclusive patented gyro stabilizer located in the rear wheel, the Moto-X Cycle can zoom along balanced like a real bike on just two wheels. The stabilizer safely spins at high speed inside the rear wheel and works like a gyroscope to help keep the cycle upright. Jumps, somersaults, and wheelies allow for a wide range of challenging play options. Atop the bike sits a detachable rider figure, and the style of both the cycle and the rider's protective gear were designed by famed X Games motocross rider Travis Pastrana. The Moto-X runs exclusively on a TMH Flexpak rechargeable battery system (not included), with a running time of 20 to 30 minutes on a full charge.