YMCA Elmo
Dancing to the tune of Y-M-C-A while forming the letters E-L-M-O with his arms and inviting you to spell along with him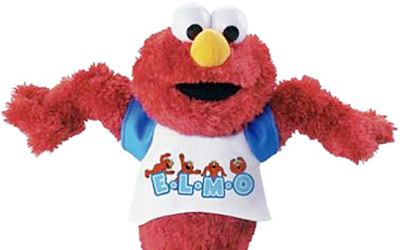 One squeeze of Elmo's hand will send him dancing the ELMO song - to the same tune as the YMCA song. Watch his arms form the letters, then squeeze his hand again and join him. This bright red plush Elmo measures 13.5 inches. Squeeze his hand and Elmo will invite you to join him dancing to his fun song. Elmo not only plays his version of the Y-M-C-A song, but he actually forms the E, L, M and O with his arms. Squeeze Elmo's hand again and Elmo will invite you to spell out his name with him.
Elmo, the furry red Muppet from Sesame Street, is beloved by generations of children for several reasons:
His friendly, cheerful personality radiates infectious joy that captivates toddlers.
His curiosity and eagerness to learn model positive attitudes about education.
Elmo speaks in a high-pitched voice using simple language kids relate to.
As a 3-and-a-half year old, he experiences learning milestones along with viewers.
Elmo represents acceptance and encouragement of children's feelings and emotions.
His resilience and confidence help build self-esteem in young viewers.
Elmo connects with kids through hugs, laughter, and playful interaction.
Elmo's combination of cheerfulness, relatability, and emotional intelligence make him the cuddly smiling face beloved by generations of children.
The YMCA (Young Men's Christian Association) is a non-profit organization known for its community outreach and facilities promoting health and wellbeing for all.
Founded in 1844, it began as an effort to provide wholesome activities for young men in London.
Today, YMCAs are community hubs offering fitness centers, pools, sports, camps, and programs open to all.
The YMCA provides access to health, child care, education, and leadership initiatives.
It serves communities through youth work, raising awareness, and social justice campaigns.
YMCA facilities are welcoming with a focus on building healthy spirit, mind and body.
The organization promotes positive values and accepts people regardless of religion, race or economic status.
For over 175 years, the YMCA has maintained its mission to strengthen communities by empowering people and giving them the tools to thrive.