Zip and Zoom Shannon - Shannen
Shannen Zip n zoom scooter.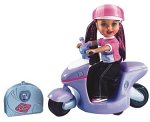 Zip N Zoom Shannen is riding the coolest set of wheels yet! With her RC technology, girls control the moves on her new motor scooter. R/C capabilities give girls control to 'zip and zoom' Shannen all around (forward, spin and stop). Zip 'N Zoom Shannen is dressed in a trendy outfit and comes with her scooter, RC controller, helmet, sticker sheet and comb.
An R/C scooter doll brings a dynamic twist to traditional doll play, allowing children to combine imaginative role-playing with the excitement of remote-controlled action. With the simple press of a button, kids can navigate the doll around obstacles, execute turns, and even perform basic stunts, all while engaging in narrative play. The R/C scooter adds a layer of interactive fun and motor skill development to the more static, traditional doll activities. Whether zipping around a makeshift city or taking a leisurely cruise through an obstacle course, the R/C scooter doll offers a unique blend of technology and storytelling that captivates young minds.