Zip and Zoom Shannon - Shannen
Shannen Zip n zoom scooter.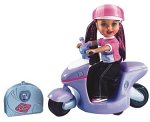 Zip N Zoom Shannen is riding the coolest set of wheels yet! With her RC technology, girls control the moves on her new motor scooter. R/C capabilities give girls control to 'zip and zoom' Shannen all around (forward, spin and stop). Zip 'N Zoom Shannen is dressed in a trendy outfit and comes with her scooter, RC controller, helmet, sticker sheet and comb.