Zipit Wireless Messenger
Portable IM connectivity device connected to 802.11b/g wireless home networks or public wi-fi hotspots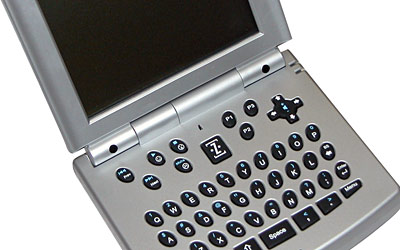 Instant messaging has become an integral part of the way young people communicate and connect in the modern world. It offers several benefits that contribute to reducing feelings of isolation:
Real-Time Communication: Instant messaging allows for immediate interaction, enabling young people to stay connected with friends and family, even when physically apart.
Accessibility: With smartphones and internet access, instant messaging is available to most young people, making it easy to reach out to others at any time and from anywhere.
Group Chats: The ability to create group chats fosters a sense of community and belonging, as young people can engage with multiple friends simultaneously.
Emojis and GIFs: The use of emojis, GIFs, and other visual elements adds a playful and expressive dimension to conversations, making them more engaging and relatable.
Connection with Like-Minded Individuals: Instant messaging platforms often host communities and groups centered around common interests, hobbies, or experiences, allowing young people to connect with others who share similar passions.
Support and Encouragement: In times of need, young people can quickly reach out to friends for support and encouragement through instant messaging, reinforcing social bonds.
Privacy: Many instant messaging apps offer privacy features, allowing for more intimate and personal conversations, which can be comforting for those who may feel shy or vulnerable in public settings.
Integration with Social Media: The integration of instant messaging with social media platforms ensures seamless communication, keeping young people in the loop with their social circles.
Overall, instant messaging serves as a versatile and accessible tool that empowers young people to maintain social connections, express themselves, and find communities that resonate with them. By facilitating continuous communication and interaction, it plays a vital role in alleviating feelings of loneliness and isolation in today's digitally connected world.
In 2004, the Zipit Wireless Messenger was a low-cost portable IM device that connectd to 802.11b/g wireless home networks or free hotspots and enabled teens to chat away with no service fee. Priced at $99.99, Zipit was way to get kids off the phone and the family PC to talk to their friends in as many conversations as they like. Zipit Wireless Messenger supported the most popular instant messaging services and allowed users to enjoy secure, uninterrupted connectivity to online friends.
Designed with the help of kids and parents specifically for the young IM market, Zipit Wireless Messenger included a variety of features to personalize the device, including the My Friendz list to quickly locate online friends and My Emoticonz, which provides easy use of pre-programmed emoticons (symbols, such as a smiley face, frequently used in IM to express an emotion) while typing a message.
With a compact, clamshell design, the Zipit Wireless Messenger measured in at 4.25 inches wide by 3.6 inches long and .8 inches deep and only weighs about eight ounces, making it easily portable. It features a 320x240 LCD screen and a full QWERTY keyboard for fast typing. A rechargeable battery provides four to eight hours of non-stop chatting. Zipit comes in six colors: Inferno Red, Icicle White, Ocean Blue, Pink Ice, Mercury Silver, and Carbon Charcoal.
With a focus on security, Zipit gave parents the peace of mind that their kids are chatting with friends without the threat of viruses, SPIM, pop-ups and other unwanted information from unsolicited senders. Zipit has built in encryption and firewall to create a fun and safe chatting experience.
In addition to supporting multiple IM protocols simultaneously, Zipit Wireless Messenger supported upgrades for playback of streaming music and customized fonts, sounds, and emoticons.
The clamshell Wi-Fi device was developed by Aeronix.