Zome System Construction Kit
Zome System Pioneer Kit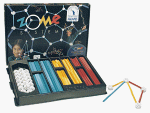 Introduce kids to the exciting possibilities of Zome System. Zome System is the construction toy for the 21st century used around the world by top scientists and designers, but easy for your child to learn. It's incredibly fun for kids. Zome System features shape and color coded parts which kids can use to build domes, bridges, crystals and fractals. Zome System includes 121 pieces in various colors.
Inspiring Creativity and Thought Processes with the Zome Construction System
Shape Recognition: The shape-coded parts in the Zome Construction System help children recognize and understand different geometric shapes, enhancing their spatial awareness and geometric understanding.
Color Coding: The color-coded components guide children in identifying and categorizing parts, fostering organizational skills and attention to detail.
Structural Exploration: Building structures like domes and bridges encourages children to explore engineering principles, understand load distribution, and develop problem-solving skills.
Mathematical Concepts: The system allows children to explore mathematical concepts such as symmetry, proportion, and scaling, providing a hands-on approach to learning mathematical principles.
Scientific Exploration: Creating models of crystals and fractals introduces children to scientific concepts in a fun and engaging way, fostering curiosity about the natural world.
Creative Expression: The flexibility of the Zome Construction System encourages creative expression, allowing children to design and build their unique creations, enhancing imagination and artistic skills.
Collaborative Learning: Working together to build complex structures fosters teamwork, communication, and collaboration, essential skills for social development.
Motor Skills Development: Assembling the parts requires fine motor skills and hand-eye coordination, promoting physical development and dexterity.
Critical Thinking: Planning and executing complex structures require critical thinking and strategic planning, enhancing cognitive development and logical reasoning.
Interdisciplinary Learning: The Zome Construction System integrates concepts from mathematics, science, art, and engineering, providing a comprehensive and interdisciplinary learning experience.
Environmental Awareness: Building structures that mimic natural formations can foster an appreciation for nature and environmental awareness, encouraging responsible stewardship of the planet.
The Zome Construction System offers a multifaceted educational experience that nurtures creativity, critical thinking, and interdisciplinary learning. Its shape and color-coded parts provide an intuitive and engaging platform for children to explore various scientific, mathematical, and artistic concepts, fostering intellectual curiosity and personal growth.