Zyrofoam - Zyro Foam
This moldable compound feels like a cross between Styrofoam and Play-Doh.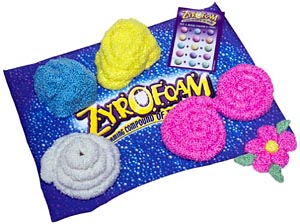 This moldable compound feels like a cross between Styrofoam and Play-Doh. It has enough stiffness to retain shapes, so children can mold it into numerous critters and objects. The package includes directions for making a snail, star, and flower, but the imagination is the limit with this toy. A group of 9- and 10-year-old testers weren't thrilled with the bumpy, sticky texture of this putty, finding it less satisfying than Nickelodeon's Gooze. However, children who like to sculpt with clay may find it a fascinating new material to explore. Comes with four colors of Zyrofoam, storage bags, a playmat, and a formula chart for mixing colors.
Zyrofoam: The Unique Moldable Sculpting Art Compound
Zyrofoam is an exciting and innovative art compound that has captured the hearts of both children and adults. It feels like a cross between Styrofoam and Play-doh, offering a unique texture and endless creative possibilities. Here's what makes Zyrofoam so enjoyable:
Unique Texture: Zyrofoam's texture, which combines the lightness of Styrofoam with the moldability of Play-doh, provides a one-of-a-kind tactile experience. It's soft to touch, easy to shape, and fun to play with.
Creativity Unleashed: The moldable nature of Zyrofoam allows for endless artistic creations. From sculptures and figurines to decorative pieces, the possibilities are limitless.
Safe and Non-Toxic: Designed with safety in mind, Zyrofoam is non-toxic and suitable for children, making it a great addition to classrooms and art studios.
Colorful Fun: Available in various vibrant colors, Zyrofoam adds a splash of color to any art project. Mixing different shades can create new hues, adding depth and dimension to the creations.
Educational Benefits: Zyrofoam not only offers fun but also helps in developing fine motor skills, spatial awareness, and creativity. It's a fantastic tool for educators to engage students in hands-on learning.
Therapeutic Qualities: The sensory experience of molding and shaping Zyrofoam can be calming and therapeutic. It's often used in therapeutic settings to provide relaxation and stress relief.
Reusable: Unlike traditional Styrofoam, Zyrofoam can be reshaped and reused, making it an environmentally friendly option for creative play.
Zyrofoam's unique combination of features makes it a versatile and engaging art material. Whether used for educational purposes, therapeutic activities, or pure creative enjoyment, Zyrofoam offers a delightful and inspiring way to explore art and creativity.