Handy Manny Toys
Inspiration building toys for children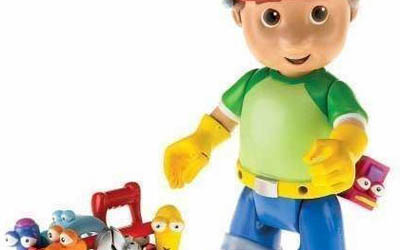 Handy Manny Repair Shop - Twenty projects to build, including a bird house.
Handy Manny Fixit Motorcycle - You can fix the tailpipe, sidecart, engine, and gas; you can even transform Manny's fix-it motorcycle from Fisher Price into a chopper.
Handy Manny Backpack - School Kit.
These toys relate to the experiences and adventures of Manny Garcia, the owner of a repair shop in the quiet, friendly community of Sheetrock Hills. Manny and his trusty family of anthropomorphic tools spend their day helping neighbors and using problem solving skills to fix things and get their friends out of jams.
Take Manny along on a fixing adventure as he comes to life in this fun, articulated plastic Manny figure. Manny comes with all seven of his tools and when a tool is placed into his hand, you will hear Manny phrases and sound effects. Press Manny's belt buckle to hear phrases from Manny in both English and Spanish. Also comes with Manny signature tool box from the show and the tools will clip on to his tool belt, comes with a blueprint with a bio on Manny.