Eye Poppin Spongebob Squarepants Toy
Squeeze SpongeBob to see his eye pop out.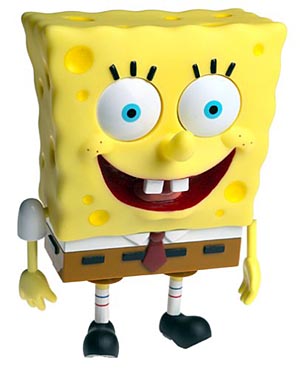 Squeeze SpongeBob to see his eye pop out. Shake Spongebob and he'll respond with wacky, hilarious phrases. If you can't get enough of that yellow porous fry cook from Bikini Bottom, then Eye-Poppin' SpongeBob may be just the thing to cure you. He's unable to stand on his own two short skinny legs that stick out from his square pants (due mostly to his large rectangular head), but his likeness to the TV cartoon character is spot on. Give Bob's rubber head a squeeze to see his big round plastic eyes pop out and hear him say one of nearly 25 phrases, like Oh, now I see. or Aye, aye, Captain. If you stop squeezing, he tries to lure you back into play by saying something like, Over here or I sure wish somebody would play with me, but continued disinterest shuts him down within a minute, helping to conserve battery power. The first set of three AAA batteries is included.