Pedicure Barbie
Toe makeover at famous Beverly Hills salon gives popular doll a stylish new look with a celebrity-preferred nail shade of black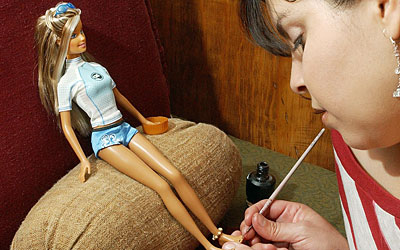 Barbie doll is revealing new, more naturally shaped feet with the most perfectly pedicured toes. Barbie went to The Paint Shop to get her first pedicure. Trading in her signature pink for must-have nail shade of black, Cali Girl Barbie doll kicked up her heels as pedicurist Carmen Phillips colored those famous toes for her date with new boyfriend Blaine.
"It's such an honor to give Barbie her first-ever pedicure," said Julie Serquinia, owner of Paint Shop. "These days, even your toes need to make a statement, so I recommended that Barbie spice up her beach style with the de rigueur color black since it's the hottest Hollywood hue -- Mandy Moore and Cameron Diaz got them done here in the exact same color."
Barbie doll always has her well-manicured finger on the pulse of today's hottest fashion styles -- from clothing to accessories -- and has been at the forefront of fashion for more than forty years. Barbie doll is making beach living Cali Girl style even more fashionable with perfectly pedicured toes.
And Cali Girl Barbie doll's new toes and pedicure makeover come on the heels of a total Barbie doll life makeover in 2004 -- a new hot fashion line, a sweet-smelling fragrance, a new romance with Blaine, and a new career in politics.
Girls were able to play with pedicured Cali Girl Barbie dolls when the Cali Girl Barbie doll featuring a pink pedicure was introduced in stores in January 2004 for $5.99.