Bratz
Dolls with a passion for fashion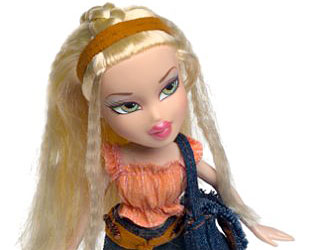 Bratz Witch Dolls - Bratz Bratzillaz Dolls.
Bratz Girls Really Rock Dolls - Bratz girlz really rock to a different beat.
Bratz Magic Hair Color - Five-in-one magic hair color with highlights.
Bratz Little Angels Doctor Time - Play doctor with thirteen different Bratz figures
Bratz Music Genie Magic CD features kids pop songs from the DVD of the same name and from the Saturday morning television series.
Bratz Party Plane Rock Angelz Bratz fashion dolls toy jet.
Bratz Step Out Doll Yasmin, Cloe, and Sasha come with two mix and match outfits and a bracelet for a good cause.
Bratz Concert Stage Bratz Rock Angelz music platform.
Bratz Big Babies Babyz Dolls Cloe, Jade, and Jasmin.
Bratz Baby Ponies big Babyz Ponyz and accessories.
Bratz Recording Studio doll accessories and real working microphone.
Bratz Twins sisters Phoebe and Roxxi have two different personalities and come with mix and match styles and accessories that they share.
Wintertime Collection Bratz snow time winter wonderland ski lodge playset with working lift, snowmaking machine, and party jacuzzi.
Lil Bratz High School play classroom, gym, cafeteria, and quad area courtyard with basketball hoop for the dolls.
Bratz Tokyo a Go-Go fashion dolls with exotic fashion, play dance and skate club, and cyber pets with light up eyes that show their mood.
Bratz Flashback Fever retro fashion dolls with styles from the 60s, 70s, and 80s.
Bratz Alarm Clock

Bratz Calculator

Bratz Costumes

Bratz Flavas Dolls

Bratz FM Limo

Bratz Instant Messenger

Bratz Karaoke Machine

Bratz Keychain Organizer

Bratz Makeover

Funk Glow Bratz

Bratz Portable CD Player

Bratz Runway Disco

Bratz Secret Safe

Bratz Stylin Salon Spa

Bratz Touchtone Phone

Lil Bratz Fashion Mall

Lil Bratz Transforming Rooms

Bratz Electronics


It's a fashion spectacular with Bratz, the girls with a passion for fashion. With new fashion looks that keep these funky and hip dolls at the top of their game, Cloe, Sasha, Jade, Yasmin, and Meygan, prove once again that looking good means feeling good. The ability to change and customize outfits is one of the main attractions of the beguiling, big-headed Bratz figures, and Cloe comes with a full bevy of garments and accessories: a skirt, a pair of flared jeans, two tops, an oversized star-shaped brush for her impressive tresses, and a faux leather shoulder bag that picks up on the warm earth tones of her clothes. Cloe is moderately posable, bending at the knees, the tops of her legs, shoulders, ankles, and neck. Mostly what she's good at though is hanging out and modeling her impressive wardrobe. Her hair is also an important of her look, and it can be brushed, braided, and arranged to suit any attitude or look.